Alabama Domestic Violence Resource Prosecutor
The Alabama Domestic Violence Resource Prosecutor (DVRP) provides prosecutors and law enforcement with the most up-to-date resources, support, and expert training throughout the State of Alabama. The resource prosecutor is dedicated to providing training, education, and assistance to empower and equip our law enforcement and prosecutors with the knowledge and tools needed to ensure justice and protect our communities.
Alabama Office of Prosecution Services
The Alabama Office of Prosecution Services (OPS) is dedicated to improving the criminal justice system of Alabama by promoting professionalism through education, legislation, fiscal services, and information; and to be advocates for the administration of justice; to be persons of honor, courage, and humility; to be firm and uncompromising in our principles, with fairness and honesty as our standard. At OPS, we have earned our reputation for giving an honest and fair opinion regardless of its consequence. 
Section 12-17-230. Purpose.
(a) The Office of Prosecution Services is hereby established.
(b) It shall be the purpose of the Office of Prosecution Services to assist the prosecuting attorneys throughout the state in their efforts against criminal activity in the state. Such assistance may include:
(1) The obtaining, preparation, supplementing and dissemination of indexes to and digests of the decisions of the Supreme Court and the Court of Appeals of Alabama and other courts, statutes and other legal authorities relating to criminal matters;
(2) The preparation and distribution of model indictments, search warrants, interrogation advice and other common and appropriate documents employed in the administration of criminal justice at the trial level;
(3) The preparation and distribution of a basic prosecutor's manual and other educational materials;
(4) The promotion of and assistance in the training of prosecuting attorneys;
(5) The provision of legal research assistance to prosecuting attorneys;
(6) The provision of such assistance to law enforcement agencies as may be lawful; and
(7) The provision of such other assistance to prosecuting attorneys which is necessary for the successful implementation of this article or which hereafter may be authorized by law.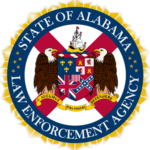 Alabama Law Enforcement Agency
301 S Ripley St, Montgomery, AL 36104
8AM – 4:45PM Monday – Friday
Phone: (334) 242-4259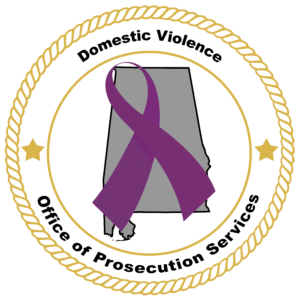 HelpLine:  256-716-1000 or 1-800-691-8426
If you need immediate assistance call 9-1-1.
OPS & ADAA
OPS and Alabama District Attorneys are fortunate to work with dedicated partners in the criminal justice arena.   OPS cherishes our professional relationships within each branch of state and federal government as well as other advocacy groups and professional associations.  These valued partners work with us to engage in the process with the sole motivation to keep Alabama's criminal justice system fair, just, and effective.  At OPS, our stock and trade is our zealous work ethic and our earned reputation for giving an honest and fair opinion regardless of its consequence.  It is our nature as prosecutors to stand in hard places, say things that need to be said and fight fights that need to be fought.
Crimes Against Children
SORNA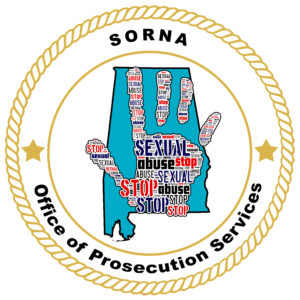 The Office of Prosecution Services has been instrumental in helping Alabama reach substantial compliance with Title 1 of the Adam Walsh Child Protection and Safety Act of 2006, commonly known as the Sex Offender Registration and Notification Act (SORNA). 
Contact: trisha.mellberg@AlabamaDA.gov
Trisha Mellberg
Deputy Director of OPS & SORNA Resource Prosecutor
HERO
The HERO program is a statewide Certified Facility Dog Program to assist in helping victims throughout the criminal process.  The program is executed by the Office of Prosecution Services and funded by a grant reward through ADECA.
Frequently people, especially children, who have been victims of crime or who have witnessed a crime of violence are emotionally effected and traumatized by those events.  They are often reluctant to disclose and, during trial, they are often re-traumatized by those events.  They have to describe, in detail, what happened to them in front of a courtroom full of strangers. Creating a comfortable atmosphere for the victim is important for the prosecution and the defense.  When the victim is comfortable, emotions may not obstruct or slow down important testimony.
The Alabama Legislature recognized the importance of Certified Facility Dogs in the 2017 Legislative Session when it passed Willow's Law, Senate Bill 273, sponsored by Senator Holley.  After its passage, Governor Kay Ivey also acknowledged the benefit of Certified Facility Dogs to victims by signing the bill into law.
Contact:  Tamara C. Martin
Special Projects Coordinator
(334) 242-4191
Traffic Safety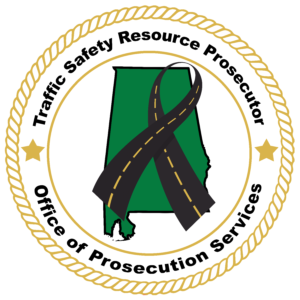 The Traffic Safety Resource Prosecutor (TSRP) provides training, education, & technical support to judges, law enforcement agencies, prosecutors, and other court personnel throughout Alabama.
The Alabama Traffic Safety Resource Prosecutor is Bill Lindsey.
Certified Victim's Services Officers
The Certified Victim Service Officers (CVSOs) will maintain constant contact with crime victims and advise them of case statuses and any scheduled hearings. As well, they will help those victims apply for financial aid with the Alabama Crime Victims Compensation Commission and compile their requests for restitution to be presented to a judge. They will also help facilitate any counseling needs or medical treatment our victims might require.