Registration
Domestic Violence Training Opportunities for
Law Enforcement and Prosecutors
Mobile

&

Robertsdale
CLICK on the Date below for Registration with EventBrite
Coming Soon…Covington County Training

§ 12-17-235
Domestic Violence Resource Prosecutor
(a) There shall be created the position of a domestic violence resource prosecutor at the Office of Prosecution Services to be fully funded through the Department of Economic and Community Affairs at eighty thousand dollars ($80,000) per year.
(b) The domestic violence resource prosecutor shall have the following duties and responsibilities:
(1) To train prosecutors, law enforcement, and domestic violence shelters on the laws related to domestic violence.
(2) To be a liaison between the domestic violence shelters, prosecutors, and law enforcement.
(3) To advocate for victims of domestic violence.
(4) Any other duties as assigned by the Executive Director at the Office of Prosecution Services. 

The Alabama Office of Prosecution Services (OPS) is dedicated to improving the crimi
nal justice system of Alabama by promoting professionalism through education, legislation, fiscal services, and information; and to be advocates for the administration of justice; to be persons of honor, courage, and humility; to be firm and uncompromising in our principles, with fairness and honesty as our standard. At OPS, we have earned our reputation for giving an honest and fair opinion regardless of its consequence.
OPS & ADAA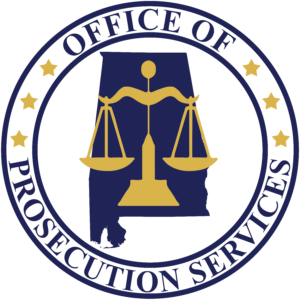 OPS and Alabama District Attorneys are fortunate to work with dedicated partners in the criminal justice arena.   OPS cherishes our professional relationships within each branch of state and federal government as well as other advocacy groups and professional associations.  These valued partners work with us to engage in the process with the sole motivation to keep Alabama's criminal justice system fair, just, and effective.  At OPS, our stock and trade is our zealous work ethic and our earned reputation for giving an honest and fair opinion regardless of its consequence.  It is our nature as prosecutors to stand in hard places, say things that need to be said and fight fights that need to be fought.
The Alabama District Attorneys Association (ADAA) is an association of 42 women and men who carry the highest-burden in the American justice system, each tasked with protecting the citizens of Alabama, providing a voice to victims, and seeking justice for all. The ADAA is committed to creating safe communities, providing assistance to crime victims, and advocating for excellence in the legal system. The association provides resources and assistance to district attorneys' offices throughout Alabama, contributing to the fair and efficient administration of justice.
District attorneys provide support and guidance to victims of crime, build partnerships with service providers, and are committed to empowering victims and preventing further victimization.
Crimes Against Children
SORNA
HERO
Traffic Safety
Alabama Victim's Services Officers