A person who is at least 18 years of age or is otherwise emancipated and is the victim of abuse or has reasonable cause to believe he or she is in imminent danger of becoming a victim of any act of abuse may petition for a Protection From Abuse Order.
A victim is an individual who is related in any of the following ways to the person who commits an act of abuse:

Has a current or former marriage, including common law marriage, with the defendant.

Has a child in common with the defendant regardless of whether the victim and defendant have ever been married and regardless of whether they are currently residing or have in the past resided together in the same household.

Has or had a dating relationship with the defendant.  A dating relationship does not include a casual or business relationship or a relationship that ended more than 12 months prior to the filing of the petition for a protection order.

 Is a current or former household member. For purposes of this chapter, a household member excludes non-romantic or non-intimate co-residents.

 A relative of a current or former household member who also lived with the defendant.
A petition for a protection order may be filed in any of the following locations:
Where the plaintiff or defendant resides.

Where the plaintiff is temporarily located if he or she has left his or her residence to avoid further abuse.

Where the abuse occurred.

Where a civil matter is pending before the court in which the plaintiff and the defendant are opposing parties.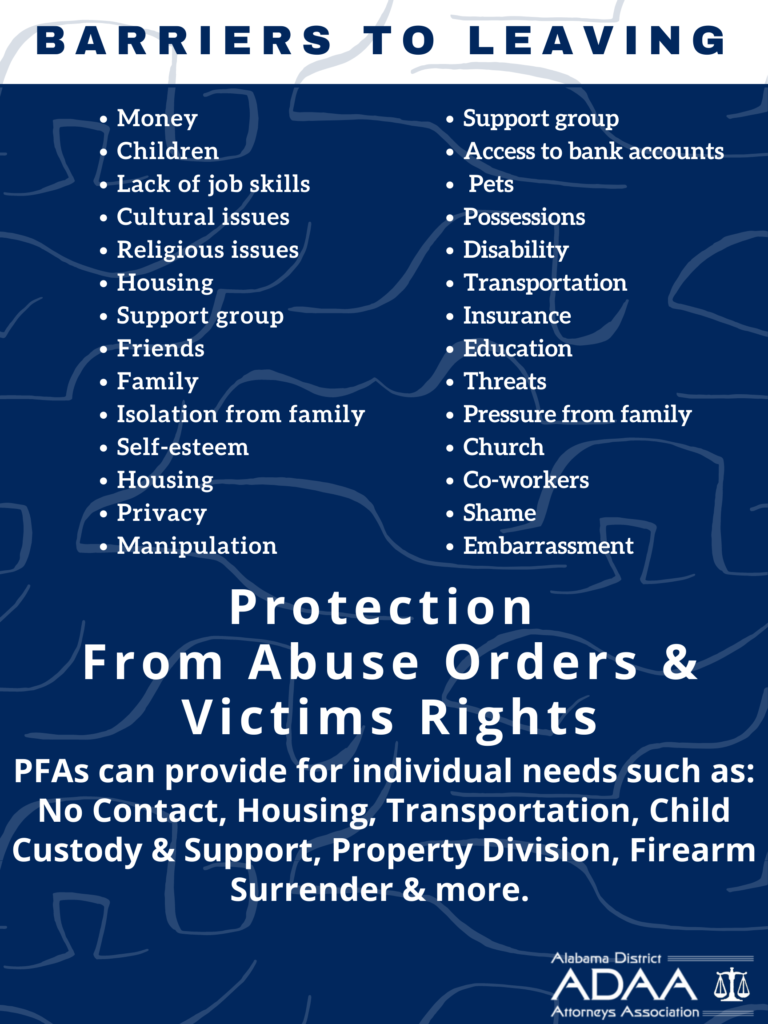 Click Your County on the Map Below to Find Local Resources
Scroll Down for State and National Resources
State Resources for Victims
If you are in an emergency call 9-1-1!
For Local Resources Call 2-1-1
Domestic Violence Hotline: 1-800-799-SAFE  or  Text "START" to 8888
Suicide Hotline: 1-800-273-8255 (TALK)
YMCA Domestic Violence Hotline: (205) 322-HURT (4878)
Crisis Services Helpline (256) 716-1000 or 1-800-691-8426
AshaKiran: They help foreign-born individuals experiencing crises throughout the state of Alabama. 1-800-793-3010
National Resources for Victims
Alabama Crime Victims' Rights

If you are a victim of crime you have certain rights in criminal cases.
You can discuss your rights with your prosecutor or the victim services officer in the district attorney's office.
Article 3. Crime Victims' Rights.
15 AL ST Ch. 23, Art. 3, Refs & Annos
15–23–60. Definitions.
15–23–61. Designated representative.
15–23–62. Law enforcement agency required to provide victim with information concerning services, compensation benefits, etc.
15–23–63. Prosecuting attorney required to notify victim of charges and proceedings; request for notice.
15–23–64. Prosecuting attorney required to confer with victim prior to final disposition of offense.
15–23–65. Prosecuting attorney required to confer with victim before commencement of trial.
15–23–66. No right to direct prosecution.
15–23–67. Right to be present throughout proceedings.
15–23–68. Waiting area for victim; court to minimize contact of victim with defendant.
15–23–69. Testimony concerning information about victim; information about victim in court file.
15–23–70. Right to refuse defendant's request for interview.
15–23–71. Plea agreement.
15–23–72. Right to pre-sentence information.
15–23–73. Impact statement; right to review pre-sentence investigative report.
15–23–74. Right to present evidence, statement, etc., during sentencing or restitution proceedings.
15–23–75. Right to information concerning defendant's sentence, request for notice, post-conviction review, etc.
15–23–76. Right to be present and heard at court proceeding.
15–23–77. Right to have property returned.
15–23–78. Right to information from agency having physical custody of prisoner.
15–23–79. Submission of victim's statement into prisoner's records.
15–23–80. Facility with custody of defendant to send victim release opinion.
15–23–81. Victim to respond to subpoena or to participate in proceeding preparation without loss of employment or fear of loss.
15–23–82. Clerk of court to accept and disburse restitution.
15–23–83. Assertion of rights by Attorney General or district attorney.
15–23–84. Failure to provide right or notice not grounds for setting aside sentence.